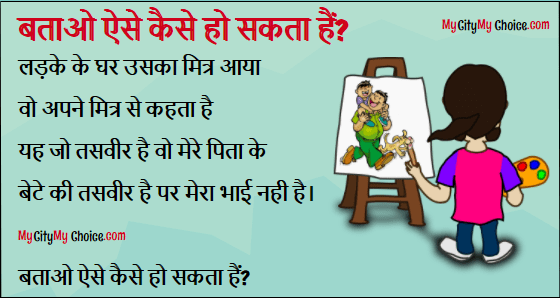 हिंदी पहेली : बताओ ऐसे कैसे हो सकता हैं??
लड़के के घर उसका मित्र आया वो अपने मित्र से कहता है
यह जो तसवीर है वो मेरे पिता के बेटे की तसवीर है पर मेरा भाई नही है।
बताओ ऐसे कैसे हो सकता हैं?
Hinglish
Ladake ke ghar usaka mitr aata hai, vo apane mitr se kahata hai ki ye jo taswir hai wo mere pita ke bete ki taswir hai par mere bhai nahi hai. Batao kaise ho sakata hai?
To see the answer of this puzzle, please click on any social icons below. Sometime you may need to refresh the page to see them properly.
एक महान बुद्धिमान ही इन पांचों पहेलियों को सॉल्व कर सकता है