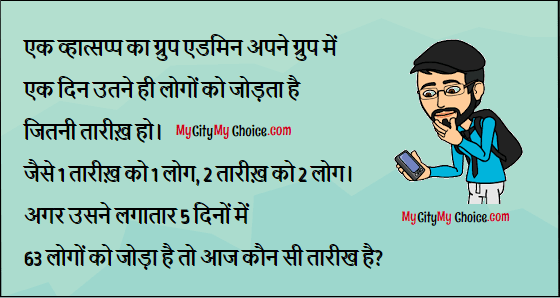 हिंदी पहेली : एडमिन ने 5 दिनों में 63 लोग जोड़े तो आज कौन सी तारीख़ है?
एक व्हात्सप्प का ग्रुप एडमिन अपने ग्रुप में एक दिन उतने ही लोगों को जोड़ता है जितनी तारीख़ हो।
जैसे 1 तारीख़ को 1 लोग, 2 तारीख़ को 2 लोग।
अगर उसने लगातार 5 दिनों में 63 लोगों को जोड़ा है तो आज कौन सी तारीख है?
Hinglish:
Ek whatsApp group admin apane group me ek din me utane logon ko jodata hai jitani tarikh ho.
Jaise 1 tarikh ko 1 log, 2 tarikh ko 2 log.
Agar usane lagatar 5 dino me 63 logon ko joda hai to aaj koun si tarikh hai?
To see the answer of this puzzle, please click on any social icons below. Sometime you may need to refresh the page to see them properly.
एक महान बुद्धिमान ही इन पांचों पहेलियों को सॉल्व कर सकता है