Happy Ganesh Chaturthi Puzzle, Who can solve it?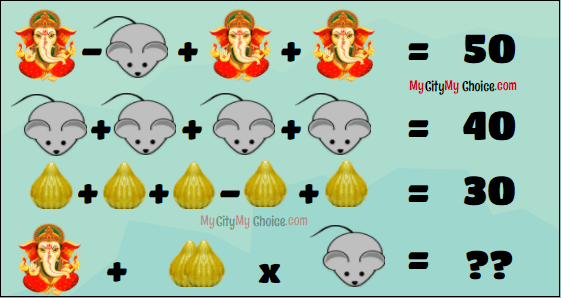 Image Puzzle : Ganesh Chaturthi Special Puzzle
We MyCityMyChoice.com wish you a Happy Ganesh Chaturthi and we pray to God for your prosperous life. May you find all the delights of life, May your all dreams come true.
On this special occasion of Ganesh Chaturthi here is a special puzzle :-
Ganesh – Mouse + Ganesh +  Ganesh = 50
Mouse + Mouse + Mouse + Mouse = 40
Modak + Modak + Modak – Modak + Modak = 30
Ganesh + Modak2 x Mouse = ??
To see the answer of this puzzle, please click on any social icons below. Sometime you may need to refresh the page to see them properly.