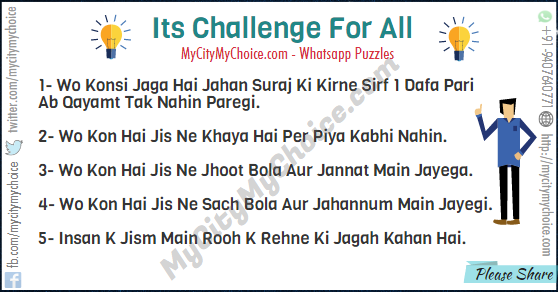 Its Challenge For All
1- Wo Konsi Jaga Hai Jahan Suraj Ki Kirne Sirf 1 Dafa Pari Ab Qayamt Tak Nahin Paregi.
2- Wo Kon Hai Jis Ne Khaya Hai Per Piya Kabhi Nahin.
3- Wo Kon Hai Jis Ne Jhoot Bola Aur Jannat Main Jayega.
4- Wo Kon Hai Jis Ne Sach Bola Aur Jahannum Main Jayegi.
5- Insan K Jism Main Rooh K Rehne Ki Jagah Kahan Hai.
Its Challenge For All.
[toggle title="Answer of the puzzle is hidden here" state="close"]
Answer of the whatsapp puzzle Its Challenge For All is :  Coming Soon
Truth to be told, we dont have answer at this moment but we will try to publish it as soon as possible, please keep on checking this page.
If you have all answers, please share in the comment section and this puzzle will be dedicated to you.
[/toggle]
If you can solve any 3 of these 5 puzzles, you have got a great IQ