[aph]Kharsia [/aph] For the first time in Kharsia and arguably in Chhattisgarh you will get high speed internet though wifi on your mobile for free!! This offer is being offered by Aashi web, a well known internet service provider in Kharsia. They are the first and only private internet service provider in the city. Started last year (2014) they have attracted many customers so far and growing very fast. Their service not only covers Kharsia but many other surrounding cities.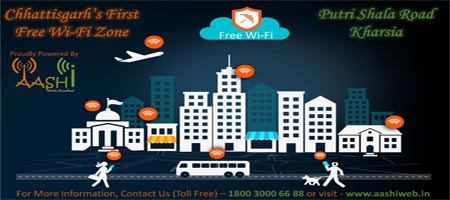 [aph] Free internet[/aph] As claimed and advertised by Aashi web you will get 1.5GB of high speed data monthly. However, this will be given on a daily basis so that you do not run out of data at the month end. Precisely 50MB of data will be given to you on a daily basis. Any left over data will not be carry forwarded to next day so better you consume your data daily and make best use of this deal. This offer has already started and covering Putrishala road as of now. Will be spreading this offer to other parts of Kharsia in a planned manner, says Ankur Agrawal (CEO, Aashi Web)
[aph] Okay, How will I get this [/aph] You need to bother least about this. You can connect yourself to free wifi with these very easy steps. If you encounter any issue just call on Toll Free Number : 1800-3000-6688
[tie_slideshow] [tie_slide] Connect to Aashi Wireless 
 [/tie_slide] [tie_slide] Open Any Browser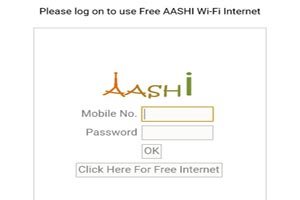 [/tie_slide] [tie_slide] Enter Your Mobile Number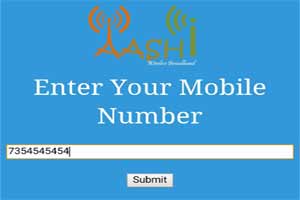 [/tie_slide]
[tie_slide] You Will Receive ID and Password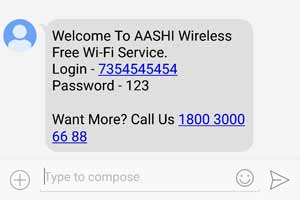 [/tie_slide] [tie_slide] Enter ID and Password You Received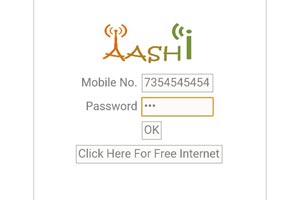 [/tie_slide] [tie_slide] You Are Connected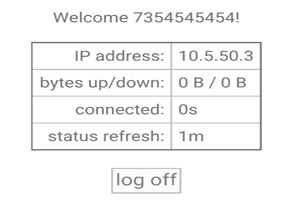 [/tie_slide] [/tie_slideshow] [aph]Address, Putrishala Road [/aph] As for now this service is available at Putrishala road, you might be interested in finding the exact location to receive this free service. We understand the importance of internet as you do, so please visit to putrishala road if you ever need free internet.
[aph] Troubleshooting [/aph] We hope you will have smooth experience in connecting to free wifi, however, if you face any issue, do not hesitate to contact 
Toll Free Number : 1800-3000-6688
[aph] Behind The Scene [/aph] The whole idea of a free wifi is a thought from a creative and and young mind of
Ankur Agrawal
, an emerging entrepreneur and CEO of Aashi Web. This is what he says in his own word..
Free wifi is a first step towards making a smarter city, people often say Food, Water and Air are required for life but I say Internet is also equally necessary in present era… City will see development and people will enjoy internet at the same time. A win-win situation for all.
 [aph] About Us [/aph] MyCityMyChoice.com is a website for your city and love to see people doing for their mother land in any regards. We always appreciate and support such activities. If you are doing anything that should be known to general public please contact us today. We will love to hear you and help 🙂