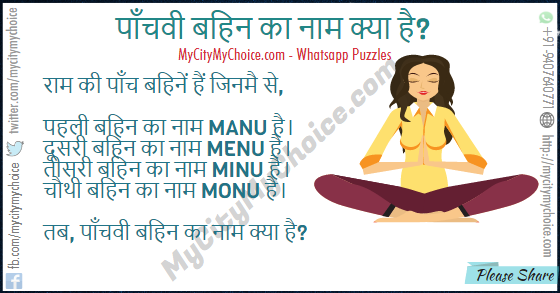 पाँचवी बहिन का नाम क्या है?
राम की पाँच बहिनें हैं जिनमै से,
पहली बहिन का नाम MANU है।
दूसरी बहिन का नाम MENU है।
तीसरी बहिन का नाम MINU है।
चौथी बहिन का नाम MONU है।
तब, पाँचवी बहिन का नाम क्या है?
HINGLISH
Ram ki panch bahane hai jinme se
Pahali bahan ka nam MANU hai
Dusari bahan ka nam MENU hai
Tisari bahan ka nam MINU hai
Chouthi bahan ka nam MONU hai
tab, pachavi bahan ka nam kya hoga?
To see the answer of this puzzle, please click on any social icons below. Sometime you may need to refresh the page to see them properly.
अगर आप नीचे के 5 में से 3 पज़ल हल कर लिए तो आप बहुत बुद्धिमान हैं