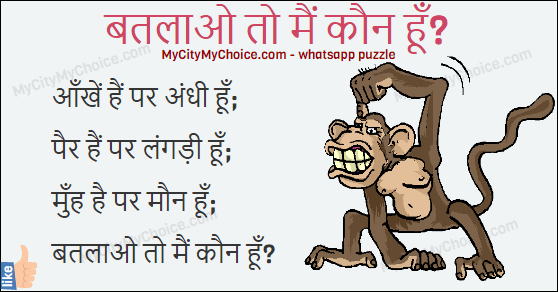 हिंदी पज़ल : बतलाओ तो मैं कौन हूँ?
आँखें हैं पर अंधी हूँ;
पैर हैं पर लंगड़ी हूँ;
मुँह है पर मौन हूँ;
बतलाओ तो मैं कौन हूँ?
Hinglish :
Aankhen hai par andhi hoon
Pair hai par langadi hoon
Muh hai par moun hoon
Batao to main koun hoon?
To see the answer of this puzzle, please click on any social icons below. Sometime you may need to refresh the page to see them properly.
अगर आप नीचे के 5 में से 3 पज़ल हल कर लिए तो आप बहुत बुद्धिमान हैं