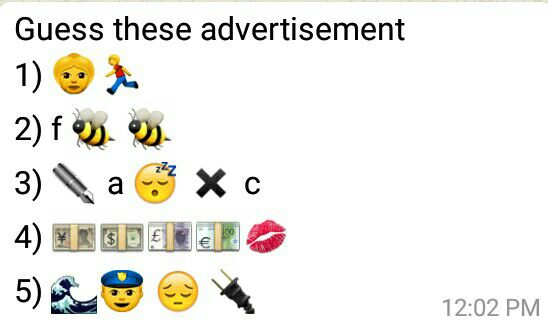 Can you guess these 5 advertisements
Guess these advertisements
1) 👵🏃
2) f 🐝 🐝
3) ✒ a 😴 ✖ c
4) 💴💵💷💶💋
5) 🌊👮 😔 🔌
Please share with friends to know the answer.
[toggle title="Sorry, answer is not available" state="close"]
Answer of the whatsapp puzzle Can you guess these 5 advertisements  is : <Coming Soon>
Currently we dont have answer but we will publish them as soon as possible. Please keep on checking this page.
If you know the answer, please share in the comment section and this puzzle will be dedicated to you.
[/toggle]
If you can solve any 3 of these 5 puzzles, you have got a great IQ
Facebook Comments