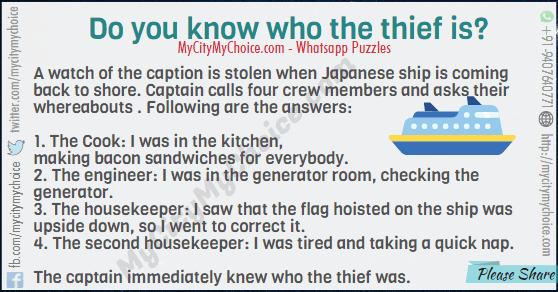 Do you know who the thief is?
Japanese ship is on route back to the shore from the Atlantic Ocean. Seeking the silent waves, the captain decides to take a shower. He keeps his Rolex and diamond studded gold bracelet on the shelf and goes for a shower. When he returns back, he finds both the watch and bracelet missing. He immediately calls the four crew members and asks them what they were doing during that duration. Following are the answers:
1. The Cook: I was in the kitchen, making bacon sandwiches for everybody.
2. The engineer: I was in the generator room, checking the generator.
3. The housekeeper: I saw that the flag hoisted on the ship was upside down, so I went to correct it.
4. The second housekeeper: I was tired and taking a quick nap.
The captain immediately knew who the thief was. Can you tell?
To see the answer of this puzzle, please click on any social icons below. Sometime you may need to refresh the page to see them properly.
If you can solve any 3 of these 5 puzzles, you have got a great IQ
Facebook Comments