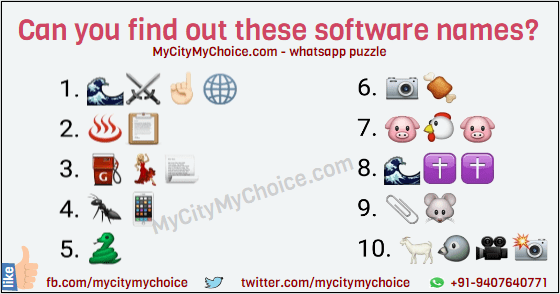 Puzzle : Can you find out these software names?
Here is the new whatsapp emoji puzzle for you,
From these whatsapp emotions can you find out software name
1. 🌊⚔☝🏻🌐
2. ♨📋
3. ⛽💃🏼📃
4. 🐜📱
5. 🐍
6. 📷🍖
7. 🐷🐔🐷
8. 🌊✝✝
9. 📎🐭
10. 🐐🐦🎥📸
Share with your friends to get the answer
[toggle title="Sorry, answer is not available" state="close"]
Answer of the puzzle Can you find out these software names? is given below : 
We are sorry to inform but at this moment answer of this awesome whatsapp puzzle is not available with us but very shortly we will publish the answer. Keep on visiting to check answer.
Few answers are :
5 : Python
8 : C++
If you already find out the software names, please share the same in the comment section and this puzzle will be dedicated to you.
Want more similar whatsapp emoji puzzle » Click here to see more emoji puzzles
[/toggle]
If you can solve any 3 of these 5 puzzles, you have got a great IQ