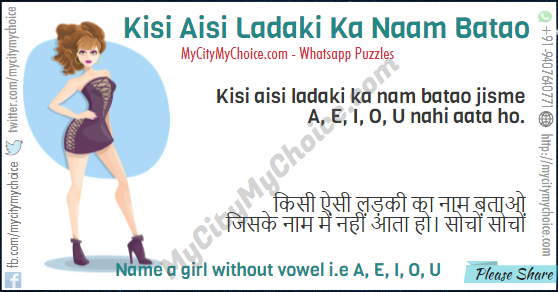 Kisi Aisi Ladaki Ka Naam Batao
Kisi aisi ladaki ka nam batao jisme A, E, I, O, U nahi aata ho.
वहीँ पज़ल हिंदी में :
किसी ऐसी लड़की का नाम बताओ जिसके नाम में नहीं आता हो। सोचों सोचों⁠⁠⁠⁠
Same puzzle in English
Name a girl without vowel i.e A, E, I, O, U
To see the answer of this puzzle, please click on any social icons below. Sometime you may need to refresh the page to see them properly.
अगर आप नीचे के 5 में से 3 पज़ल हल कर लिए तो आप बहुत बुद्धिमान हैं