Try windows 10 for free :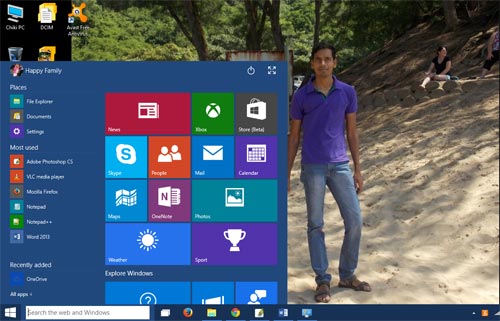 Yes that's right, you can try windows 10 for free and see what is new inside. You might have already known by now that Microsoft is working on its new release windows 9 Windows 10 and claims it to be better, with simple navigation and faster start up. The actual release date is yet to be announced officially but you can still have access to the product they are working on. This is the first time that Microsoft is releasing a technical preview version for its customer. We will tell you how you can have access to this technical preview version as well as how could you upgrade to windows 10 even for free when it is officially released. But before that I am very much sure you must be puzzled why its called Windows 10 and not Windows 9?
Why Windows 10 and not 9?
This is the first thing comes in your mind when you hear about the new version of the windows. Though there are no official words from Microsoft on this, there are two reason people are speculating on
Number 9 is considered unlucky : Yes in Japan number 9 along with number 4 are considered unlucky and that could be one reason for this skip. Nine is pronounced "ku" which has the same pronunciation as suffering, agony or torture. It is also believed that many buildings and hospitals do not have fourth and ninth floor.
To keep the code simple : It is believed that piece of code developed earlier to determine the version of windows only checks the first letter of the version. So if it starts with 7 its windows 7, if it starts with 8 its windows 8, similarly if it starts with 9 its ………..? sorry its not Windows 9 its either Windows 95 or 98. So to avoid this technical confusion they thought to come up with windows 10.
What do you need to do to try windows 10 for free?
Steps are pretty simple.  Got to Microsoft TechNet Evalution Center and down load Windows 1o for free. Simple isn't it?  However, you must have an outlook email account to be able to login and register for this evaluation. If  you don't have any, you can create one for free here.
[pullquote-right] Microsoft TechNet Evalution Center is the place where you get many other latest products from Microsoft to try them out for free. Do explore other products of your choice. You need to create an account only once. [/pullquote-right]
Before you start downloading Windows 10 make sure you have gone through Windows 10 Enterprise system requirements and also downloading right system type 64 or 32 bit. 32 bit is approximately 2.9 GB in size and 64 bit is 3.8GB approx.
When you have downloaded the application you will have a .ISO file with you.  There are different ways of installing it on your system. The simplest and easiest way it to first extract the .iso file using WinRAR/WinZip and then double click on the setup icon. This process will take some time to upgrade your system. Once all done you will have a brand new look and new operating system, Windows 10  🙂
Windows 10 Free Upgrade Offer :
Another great news is that you can sign up for Free Upgrade Offer and avail this. You only need to have a valid Outlook account. If you don't have any, you can simply create one from here. This will also give you free 15GB of cloud storage from OneDrive. If your sign up is successful, you will get a confirmation like below.

 What is new in windows 10?
As you know by now that this operating system is still under development, it would be biased to tell what has changed. But in my observation look and feel has changed, the metro start-up is gone and is combined with normal start button , a much needed one, navigations are easy and it responds fast similarly there are many other small changes. It would be good and fair enough if you guys try it out and let us know you noticed in the comment section below
Facebook Comments