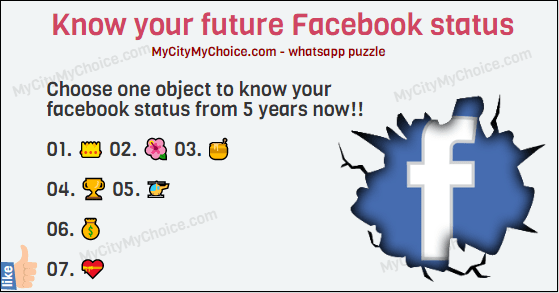 Whatsapp Game : Know your future Facebook status
Know your future Facebook status
Choose one object to know your facebook status from 5 years now!!
01. 👑
02. 🌺
03. 🍯
04. 🏆
05. 🚁
06. 💰
07. 💝
To see the answer of this puzzle, please click on any social icons below. Sometime you may need to refresh the page to see them properly.
Here is your Facebook Status after 5 years from now : 
01 : Just got married to my dream girl today in Hotel Taj
02: Won 10.0 million dollar lottery, you all are invited to my private island.
03: Going Bangkok tomorrow in my private jet for couple of weeks.
04: My 3rd album is being launched tomorrow, expecting another mega hit.
05: Anushka and Alia visited my villa today and we had very good quality time.
06: This year I had very bad IPL could only took 5 wickets and scored only 3 centuries.
07: I am happy to announce that flipkart and Amazon will be renamed Flipzon and I would be the new CEO.
Here are more whatsapp games for you!!
Facebook Comments