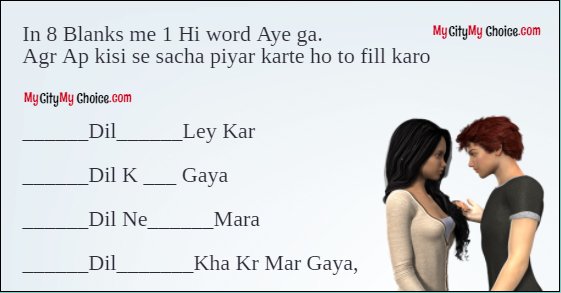 Hindi Paheli : In 8 blanks me 1 hi word ayega
Love Game..
Zara is msg me dimagh lga0 or apne frndz k0 bi send kar0
phr mujhe jawab lazmi dena, Ye msg fill karo
Love pepar
______Dil______Ley Kar_______Dil K _______Gaya_____Dil Ne______Mara _____Dil_______Kha Kr Mar Gaya,
In 8 Blanks me 1 Hi word Aye ga. Agr Ap kisi sa sacha piyar karte ho to fill kro,
Ap k pas rat tak time hai, I am wating your answer warna love krna chor do..
It's challenge.
To see the answer of this puzzle, please click on any social icons below. Sometime you may need to refresh the page to see them properly.