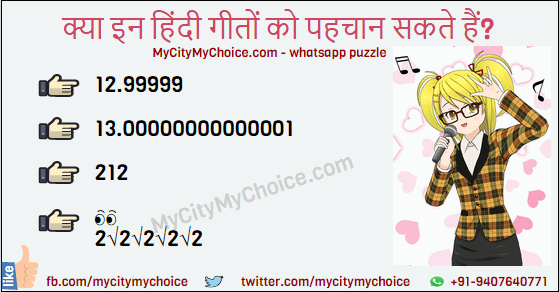 हिंदी पज़ल : क्या इन हिंदी गीतों को पहचान सकते हैं?
ये एक मैथमेटिकल पज़ल है जिसमे नीचे के कुछ नंबरों से आप को हिंदी गीतों को पहचानना है,
क्या आप कर सकते हैं?
01 » 12.99999
02 » 13.00000000000001
03 » 212
04 » 👀
2√2√2√2√2
Hinglish : Ye ek mathematical puzzle hai jisme kuch numbaron se
aap ko Hindi gane pahachanane hai. Kya aap kar sakte hain?
To see the answer of this puzzle, please click on any social icons below. Sometime you may need to refresh the page to see them properly.
अगर आप नीचे के 5 में से 3 पज़ल हल कर लिए तो आप बहुत बुद्धिमान हैं
Facebook Comments