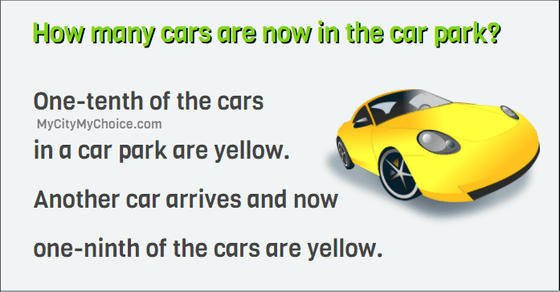 Logical Puzzle : How many cars are now in the car park?
One-tenth of the cars
in a car park are yellow.
Another car arrives and now
one-ninth of the cars are yellow.
Puzzle in Hindi
एक कार पार्क में पिले कारों की संख्या कूल कर का 1/10 भाग है।
तभी पार्किंग में एक नयी कार आती है और अब पिले कारों की संख्या कूल कारों का 1/9 राह जाती है
तो बताइए पार्किंग में कुल कितने कार हैं?
To see the answer of this puzzle, please click on any social icons below. Sometime you may need to refresh the page to see them properly.
Only a smart person can solve following challenging puzzles!!