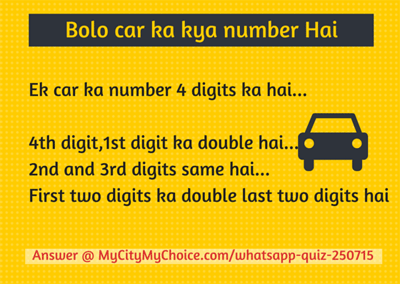 Bolo Car Ka Kya Number Hai?
Hai koi genius online..
jo sahi answer de sake…???
Ek car ka number 4 digits ka hai…
4th digit,1st digit ka double hai…
2nd and 3rd digits same hai…
Aur first two digits ka double last two digits hai…
Bolo car ka kya number Hai ?????
To see the answer of this puzzle, please click on any social icons below. Sometime you may need to refresh the page to see them properly.
If you can solve any 3 of these 5 puzzles, you have got a great IQ